ESR-REIT's management team has extensive experience and a proven track record in fund management, compliance, as well as asset and property management in Singapore and the region.
Adrian Chui
Chief Executive Officer ("CEO") and Executive Director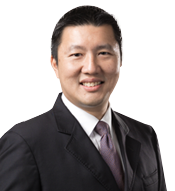 Mr Adrian Chui joined the Manager in March 2017 as CEO and Executive Director. He reports to the Board and is responsible for achieving ESR-REIT's fiduciary duties to Unitholders as well as managing major stakeholder relationships. His key responsibilities include setting the strategic objectives for ESR-REIT alongside the Board as well as driving the overall business plan execution with the support of the management team.
Prior to joining the Manager, Mr. Chui ran the South East Asia real estate advisory division of Standard Chartered Bank ("SCB"). His overall responsibilities at SCB included structuring, fundamental analysis and approval of acquisition financing for real estate companies / REITs / Business Trusts, valuation and execution advice for mergers & acquisitions, as well as structuring, execution and investment case positioning & strategies of REIT Initial Public Offerings ("IPOs") and follow-on offerings of equity, equity- linked and debt securities across all real estate segments.
Before SCB, Mr. Chui was the Director of Real Estate, Lodging and Leisure Group at UBS Investment Bank's Singapore office, where he headed a team involved in structuring and listing of Singapore and cross-border REITs / Business Trusts and property company IPOs for Southeast Asia. His past work experience also includes a stint at Morgan Stanley Asia (Singapore) Securities Pte Ltd, where he was the lead property research analyst responsible for Singapore listed REITs and property companies. He has also held management roles with CapitaCommercial Trust Management Limited and was part of the pioneer management team at Ascendas Funds Management (S) Limited.
Lawrence Chan Wee Kiat
Chief Financial Officer ("CFO")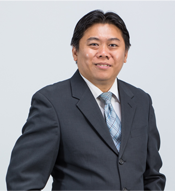 Mr Lawrence Chan joined the Manager in November 2018 as CFO. He reports to the CEO and overseas all finance functions of the Trust and the Manager.
Mr Chan has more than 19 years of experience in audit, accounting and finance-related work. Prior to joining the Manager, Mr Chan was the CFO of Viva Industrial Trust Management Pte. Ltd. ("VITM") and was also a director of Viva Real Estate Asset Management Pte. Ltd. and Viva iTrust MTN Pte. Ltd. In his role, he was responsible for the corporate finance, treasury, financial reporting, forecast and budgeting, tax, internal control, financial risk management, corporate governance and compliance functions.
Prior to joining VITM, Mr Chan was the Financial Controller of Hoe Leong Corporation Ltd and was an Associate Director with Genesis Capital, an independent corporate finance advisory firm licensed by the Monetary Authority of Singapore. Before joining Genesis Capital, Mr Chan was an Audit Manager with KPMG, where he was responsible for auditing Singapore and Chinese companies across various industries.
Mr Chan is a Chartered Accountant of Singapore and non-practicing member of the Institute of Singapore Chartered Accountants. He graduated from Nanyang Technological University with a Bachelor of Accountancy in 1999.
Charlene-Jayne Chang
Head of Capital Markets and Investor Relations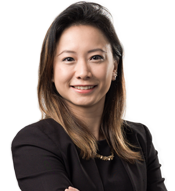 Ms Chang joined the Manager in April 2017 as Head of Capital Markets and Investor Relations. She reports to the CEO and manages the capital markets/fundraising, treasury and investor relations/corporate communications functions of the Manager, including the origination and execution of mergers and acquisitions, capital markets/fundraising and treasury strategies. Prior to joining the Manager, Ms Chang was a Director of the Commercial Real Estate division at Standard Chartered Bank and has originated and executed major transactions across Singapore and Southeast Asia for real estate companies, REITS and Business Trusts. In her role, she was responsible for the structuring, valuation, fundamental analysis, financing and execution advice for mergers and acquisitions, initial public offerings, and follow-on offerings of equity, equity-linked and debt securities.
Before joining Standard Chartered Bank, Ms Chang was based in the Hong Kong and Singapore Corporate Finance offices of the Royal Bank of Scotland, providing corporate finance advisory and executing cross-border transactions across Hong Kong, China and Southeast Asia.
Ms Chang holds a Bachelor of Business Administration with double majors in Finance and Management from the National University of Singapore.
Nancy Tan
Head of Real Estate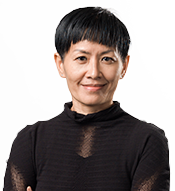 Ms Tan joined the Manager in February 2009 and was appointed as Head of Real Estate in February 2011. She reports to the CEO and formulates strategic plans to maximise the returns of ESR-REIT's assets. She oversees the investments, asset management, property management and leasing departments. She has over 20 years of experience in the real estate and asset management industry in Singapore.
Prior to joining the Manager, Ms Tan was the Fund Manager of MacarthurCook Industrial REIT. She also held management positions in a number of established real estate firms, including Far East Organisation and City Developments Limited.
Ms Tan holds a Bachelor of Science (Estate Management) from the National University of Singapore and a Graduate Diploma in Marketing from the Marketing Institute of Singapore.
Loy York Ying
Head of Compliance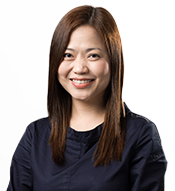 Ms Loy joined the Manager in June 2014 as Head of Compliance. She reports to the CEO and is responsible for all internal and external compliance requirements for the Trust, the Manager and all other related companies of the Manager. She has over 10 years of experience in regulatory and compliance requirements in the financial services industry.
Prior to joining the Manager, Ms Loy was the Head of Regulatory Advisory and Policy, Compliance at Maybank Singapore and was responsible for the oversight and management of all compliance-related requirements of Singapore branch. Prior to that, she also managed portfolio and provided financial advisory services to high net-worth individuals with DBS Bank Ltd and UOB Ltd.
Ms Loy holds a Bachelor of Business (Banking) from Nanyang Technological University. She also holds the Institute of Banking and Finance Advanced, Compliance (Banking) Certification.